Sand Safari Arts Festival
Once upon a time in the city of the Gold Coast, Surfers Paradise was transformed into Sand Safari Arts Festival. The festival is a wonderful place of discovery with captivating and gigantic sand sculptures and larger than life art pieces.
See your imagination come to life in 270 tonne of sand themed to your favourite fairy tale classic. Families, friends and art lovers alike will be captivated by larger than life sand sculptures. Enjoy breathtaking art installations, sand sculpting demonstrations, live entertainment, art exhibitions and interactive workshops.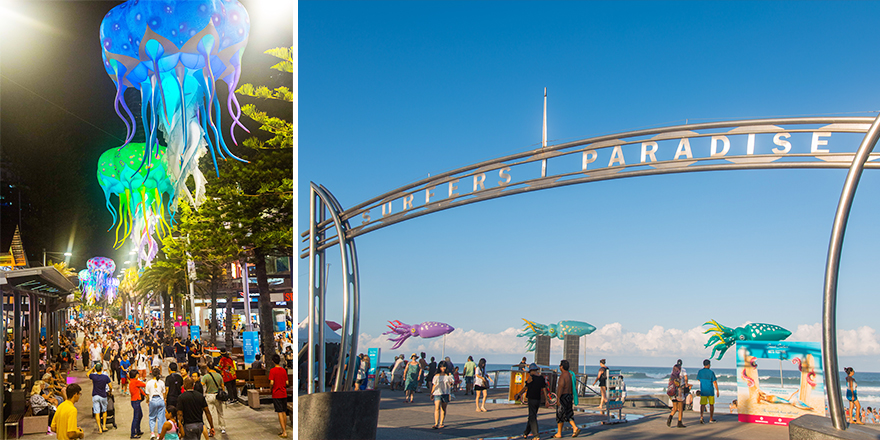 Prepare to experience the largest and greatest sand sculpt competition that ever was – the Australian Sand Sculpting Championships. 15 world-renowned sculptors will go head-to-head to take out the highly acclaimed title. They will be creating 10-tonne sand sculpts revealing your favourite fairy tale classics.
As seen at VIVID Sydney 2019, "The Harp of the City" will be placed along the beachfront produces unique sounds along with an interactive light show. Internationally‐acclaimed local artist Clayton Blake, will showcase two of his extraordinary works – a thicket of large scale tentacles in collaboration with Courtenay McCue and a cast of migrating solider crabs converging on Surfers Paradise beach.
Witness local talented artists create masterpieces right before your very eyes as Cavill Mall transforms into a dynamic outdoor exhibition the Artist Plaza. Discover a diverse display of artwork with the option to purchase your favourite piece as well.
Photo opportunities will be flowing throughout the festival to capture memories that will stay with you forever and ever. From Immersive fairy-tale sand sculptures to a 45 tonne Jack and the Beanstalk – take a look at the amazing sculptures here.
The mythical adventures will continue as you step into The Castle of Ever After, the home where fantasy meets inspiration. Behold the enchanting array of fairy tale book readings, performances, games, live music and the Storyfest pop-up beach library like no other!
Surfers Paradise becomes a land of plenty with so much to do, see and enjoy. Take a trip around the wonderful setting and enjoy the many restaurants, shopping experiences, and attractions. It's best to start making your travel arrangements today, as we can assure it will leave you happily ever after.
---
WHEN: 14/02/2020 – 01/03/2020
WHERE: The Esplanade, Beach Rd, Surfers Paradise QLD 4217
COST: FREE
---