OUR TOP GOLD COAST KIDS ACTIVITIES TO PLAN YOUR NEXT HOLIDAYS
Keeping your kids busy during your next holiday will be a breeze with these top Gold Coast Kids Activities. Don't forget to check out our exclusive discounts while booking!
---
1. Infinity
This unique and unforgettable experience will take you and your kids through a mind-blowing journey into spectacular worlds of wonder. Located in Surfers Paradise, this Family Fun attraction is enjoyed by all ages! Visit INFINITY and challenge your senses through the 20 multi-sensual environments filled with unique special effects and illusions! Book now and don't forget to use your exclusive discount coupon!
Surfers Paradise

---
2. The Big Wedgie
The Big Wedgie is returning to the Gold Coast for the Easter School Holidays! Friday 2nd April – Sunday 18th April.
It's the world's TALLEST and most EXTREME standalone inflatable waterslide – we even have the world record to prove it! The Big Wedgie is not for the faint-hearted and is definitely a thrill ride!
Buy tickets now and don't forget to use your exclusive discount coupon!
Broadwater Parklands, Southport

---
3. Currumbin Wildlife Sanctuary
Enjoy some Family Fun at Currumbin Wildlife Sanctuary with Blinky Bill and the hundreds of native Australian animals on display in the natural bushland and rainforest settings. Animal encounters, photo opportunities, Segway Safaris and Free Flight Bird Shows will provide exciting moments at the animal sanctuary. Educate your kids at the Currumbin Wildlife Hospital with a history of Australian wildlife preservation. Experience the depth that Currumbin Wildlife Sanctuary has for the care and welfare of the Australian native animal population (📷 Rafael Ben-Ari – Photojournalist and Travel Photographer).
Currumbin

🏷  Download your exclusive discount here!
---
4. Mountview Alpaca Farm
Not only can you feed the alpacas but you can also walk them around the vineyard grounds, get some cool selfies to make your friends jealous and get the best alpaca cuddles around! Order a picnic basket from the vineyard & share time with your new fluffy friends in a relaxed and country setting next to Canungra Creek at Mountview Alpaca Farm!
O'Reilly's Canungra Valley Vineyards, Canungra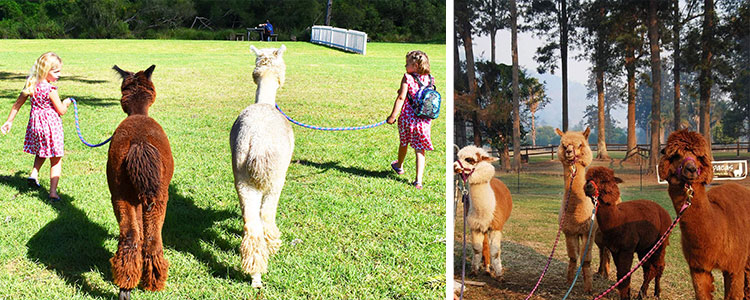 ---
5. ArtVo Gold Coast
Have you experienced ArtVo Gold Coast yet? Hot on the heels of the hugely successful Melbourne ArtVo, Australia's first immersive 'trick-art' gallery is now open on the Gold Coast! Priceless photos, unbelievable scenarios and hours of mind-bending fun for people of all ages, large and small groups and even those with disabilities.
Robina Town Centre
🏷  Download your exclusive discount here!
---
6. Thomas & Friends Fun Park
Recently opened in the heart of Surfers Paradise, Thomas & Friends Fun Park offers children and parents a unique and up-close experience with the No.1 most popular train in the world, Thomas the Tank Engine! Only 2 minutes walk to Surfers Paradise beach.
Fun Park is great for children and toddlers with a range of rides and attractions: electric cars, carousels, spaceship ride, etc. Come and check out the newest theme park on the gold coast!
Surfers Paradise

🏷  Download your exclusive discount here!
---
7. King Tutt's Putt Putt
Join King Tutt's Putt Putt for some friendly competition or some family fun over three individually themed 18-hole mini golf courses in Surfers Paradise!
Surfers Paradise

🏷  Download your exclusive discount here!
---
8. iFLY Gold Coast
iFLY Indoor Skydiving is safe for kids, challenging for adults and exciting for teens! Whether you're 3 or 103, iFLY will offer your family the most exhilarating, involving and rewarding experience. Get inside the giant glass tube and get lifted into flight by the massive wind generator. This ultra-safe environment also offers the all-round viewing platform that lets you share the magic with your family.
Surfers Paradise

🏷  Download your exclusive discount here!
---
9. The Wax Museum
Listed as a Great Wax Museum of the World, the Gold Coast Wax Museum in Surfers Paradise is the largest in the southern hemisphere. Take your kids on a tour and introduce them to Movie Stars, Scientists, Explorers, Villains and World Leaders all presented with startling realism and dressed in authentically reproduced costumes of their times.
Surfers Paradise

🏷  Download your exclusive discount here!
---
10. Timezone
Timezone Surfers Paradise, Robina and Coolangatta feature a variety of attractions for the whole family under one indoor roof! Including Laser Skirmish, Bumper Cars, Basketball Games, Mini Golf course, and the full size ten pin bowling. Entertain the whole family with over 350 Games, Interactive Games, Shooting Gallery, Driving Games, Air Hockey and many others!
Surfers Paradise, Robina and Coolangatta

---
11. Putt Putt Mermaid Beach
Putt Putt Mermaid Beach is the perfect Mini Golf for all ages. Amaze your kids with the 3 fantastically themed mini golf courses! Choose your favourite theme and get putting! The Jungle Trail will take you on a wildlife adventure with talking parrots and elephants. The Fun Run is the most challenging with its motorised obstacles and spinning windmill, but it certainly isn't less fun! Want something more relaxing? Try the Waterways, an escape to an island paradise with cascading waterfalls and marine creatures.
Mermaid Beach
🏷  Download your exclusive discount here!
---
12. Paradise Country
Paradise Country is the best Aussie farm experience on the Gold Coast. Your kids will love pretending they live on a farm for a day. They'll be shown how to throw a boomerang, milk a cow and they'll even see how to crack a stockmen's whip! They will see Kangaroos and Koalas in their natural setting and take photos with them!
Production Drive, Oxenford

---
13. Australian Outback Spectacular
Since 2006, Outback Spectacular has been wowing visitors from all over the world. Be dazzled like never before by amazing animal stars, death defying stunts and stunning aerial performances. Your family will be entertained as you witness stories of Australian legends and characters come to life with live horses and live music. With more drama, action, humour and excitement than ever before, Australia's favourite dinner and show is more than a night out – it's an experience steeped in courage, tradition and daring Australian spirit (📷 glennfiltness).
Entertainment Road, Oxenford

---
14. Ripley's Believe It Or Not!
The Surfers Paradise favourite, Ripley's, has undergone massive renovations and have lots of new attractions on offer! Visit them daily from 10am to 9pm and try their brand NEW 7D Moving Theatre!
Surfers Paradise

🏷  Download your exclusive discount here!
---
DO YOU HAVE A BIRTHDAY COMING UP?
Are you planning a birthday party on the Gold Coast? If so, make sure you check out our blog below! You will find great ideas with lots of exclusive discounts!